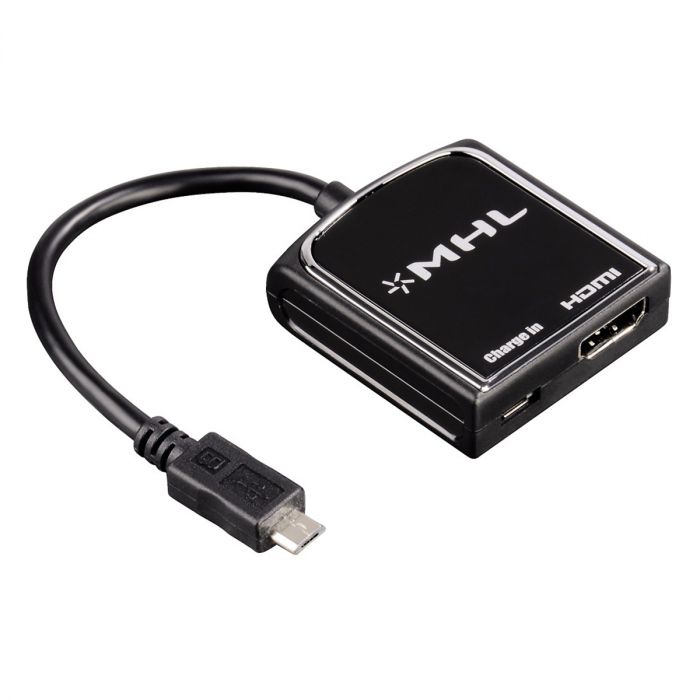 Adapter Hama MHL Adapter (Mobile High-Definition Link from portable device to TV/monitor) FullHD 1080p, heli kuni 192kHz ja 7.1 surroun...
Qty in the package (6 tk)
26.99€
/ tk
Client Price
25.64€
/ tk
Product Description
Specifications
Availability in stores
Enquiry Form
Product Description
MHL Adapter
- For transferring audio/video signals from portable devices (smartphone, tablet) with MHL technology to televisions/monitors or projectors
- High-resolution full-HD quality up to 1920 x 1080 pixels
- Additional shielding for a good reduction of electromagnetic interference
- Audio with up to 192 kHz and up to 7.1 surround sound (depends on the mobile phone)
- With additional micro USB socket for connecting a power supply (not included) for supplying a mobile phone with power
System Requirements:
- Smartphone/tablet must support MHL technology! (e.g. Samsung Galaxy SII, Galaxy Nexus, Galaxy Note, HTC Sensation, EVO 3D, Flyer)
Features
Cable length
0.2 m
Connector 1
HDMI Type A (Standard)
Connector 2
HDMI Type A (Standard)
Product colour
Black
Connector contacts plating
Gold
Connector gender
Male/Female
Tehnilised andmed tulevad kolmandalt osapoolelt Icecat. Me ei võta vastutust nende andmete õigsuse eest.
Specifications
Product Details
Specifications

| | |
| --- | --- |
| Manufacturer | HAMA |
| Manufacturer Code | 54510 |
| Unit | tk |
| Barcodes | 4007249545107 |
| Qty in the package | 6 |
Availability in stores
NB! The stock of the stores seen below is not in real time and does not take bookings into account. Check the availability in stores.
Enquiry Form
Enquiry form
Send us a question to get an offer for the goods, if we do not have enough in the e-shop immediately.
Enquiry info