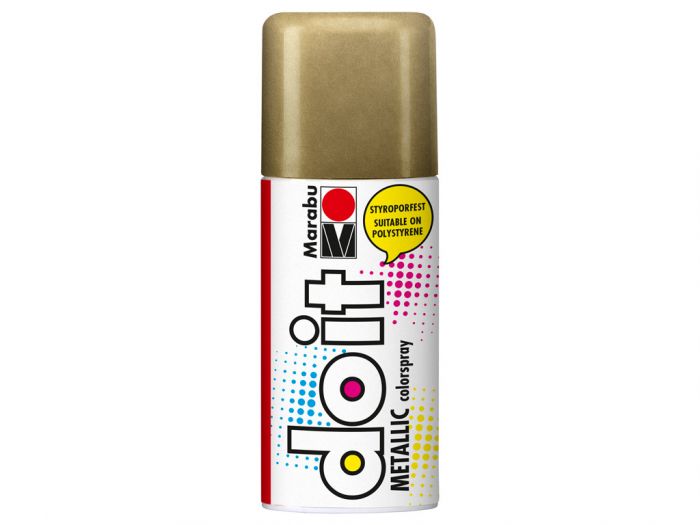 Aerosoolvärv do it Metallic 150ml 784 gold
Manufacturer Code
02MB74006784
7.50€
/ tk
Client Price
7.13€
/ tk
Product Description
Specifications
Availability in stores
Enquiry Form
Product Description
Aerosoolvärv Marabu do it Metallic.
Mööblitükid, väikesed dekoratiivobjektid või midagi polüstüreenist valmistatud? Metallikefekt annab eriliselt peene välimuse.
Marabu do it annab suurepärase värvisära ja on kasutatav erinevateks otstarveteks, ka keerukate pindade jaoks.
Seetõttu sobib see ideaalselt erinevate käsitööde puhul kasutamiseks.
Suur pigmendisisaldus annab sellele hea katvuse ja valguskindluse.
Spreivärv kuivab kiiresti ning korralikult kinnitunult on puute- ja ilmastikukindel.
Paljusid materjale, isegi keerukamad nagu kartong, puit, polüstüreen, klaas, kivi, metall, savi, vitspunutis ja kuivad naturaalsed materjalid, on võimalik väga kiiresti kaunimaks teha.
Sobib polüstüreeni värvimiseks!
Kogus: 150 ml
Specifications
Product Details
Specifications

| | |
| --- | --- |
| Manufacturer | MARABU |
| Manufacturer Code | 02MB74006784 |
| Unit | tk |
| Barcodes | 4007751632845 |
Availability in stores
NB! The stock of the stores seen below is not in real time and does not take bookings into account. Check the availability in stores.
Enquiry Form
Enquiry form
Send us a question to get an offer for the goods, if we do not have enough in the e-shop immediately.
Enquiry info