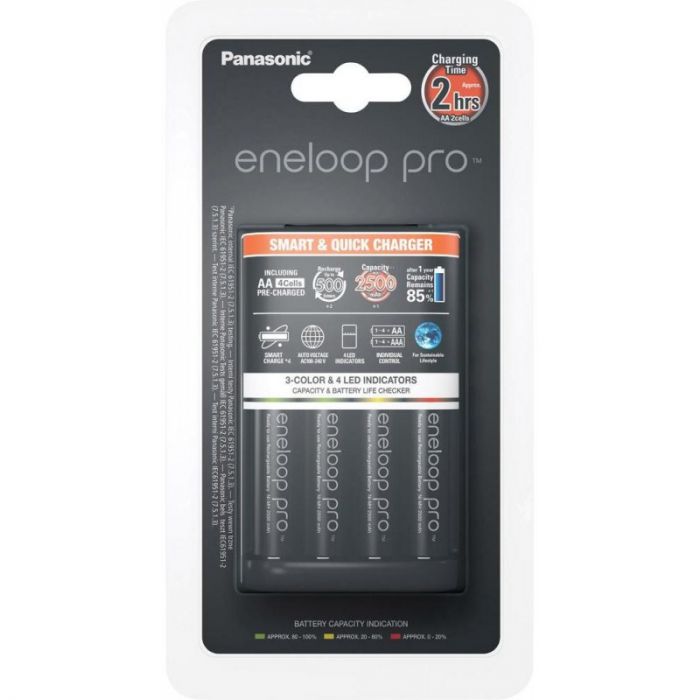 Akulaadija Panasonic eneloop BQ-CC55 + 4x2500mAh Pro AA akut, AA/AAA 4 eraldi laadimiskanalit, aeg 3h
Manufacturer Code
K-KJ55HCD40E
52.49€
/ tk
Client Price
49.87€
/ tk
Product Description
Specifications
Availability in stores
Enquiry Form
Product Description
Võimekas laadija igapäevaseks kasutamiseks
Sobib 1–4 AA / AAA aku laadimiseks
Laadimisaeg kuni 3 tundi
Ohutustaimer, LED indikaatorid
Komplektis neli eneloop Pro AA akut
BQ-CC55 laadija laeb nii AA kui AAA elemente. Seda saab kasutada kõikjal maailmas (100–240V sisendpinge) ning sel on ka individuaalne laadimise kontroll – delta V. Tänu erivärvilistele LED indikaatoritele näed, kui palju on akud laetud.

Sobiv element: AA + AAA NiMh akud
Sobiv mahtuvus: 800–2600 mAh
Laeb korraga: AA 1 kuni 4 akut, AAA 1 kuni 4 akut
Automaatne väljalülitus kui aku on täis (delta V)
Mittelaetava patarei tuvastus, ülekuumenemise kaitse
Neli iseseisvat laadimiskanalit koos LED indikaatoritega
Laadimisaeg: 1,5–3 tundi, sõltuvalt elemendi tüübist ja nende hulgast
Sobib erinevate tootjate NiMH akudele
Komplektis neli eneloop BK-3HCDE (AA 2500 mAh) NiMH akut
Specifications
Product Details
Specifications

| | |
| --- | --- |
| Manufacturer | PANASONIC |
| Manufacturer Code | K-KJ55HCD40E |
| Unit | tk |
| Barcodes | 5410853057635 |
Availability in stores
NB! The stock of the stores seen below is not in real time and does not take bookings into account. Check the availability in stores.
Enquiry Form
Enquiry form
Send us a question to get an offer for the goods, if we do not have enough in the e-shop immediately.
Enquiry info