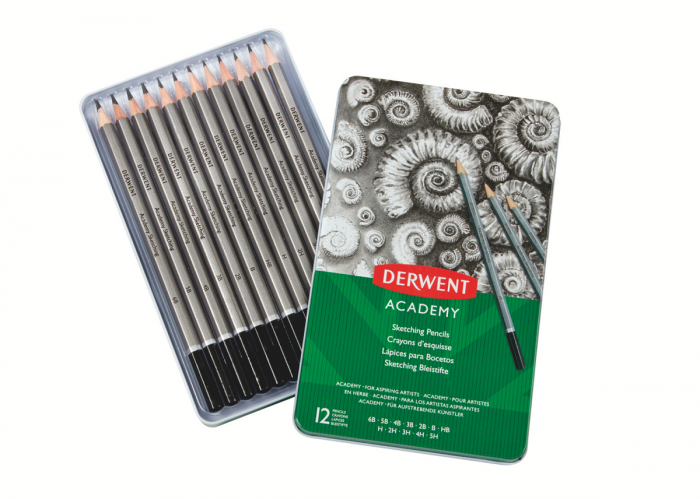 Eskiisipliiats Derwent Academy 12tk. 6B-5H, metallkarbis
Manufacturer Code
2301946
Qty in the package (6 krp)
6.40€
/ krp
Client Price
6.08€
/ krp
Product Description
Specifications
Availability in stores
Enquiry Form
Product Description
Eskiisipliiats Derwent Academy.
Derwent Academy Flip! seeria loodi just laste peale mõeldes.
Nendel pliiatsitel on kolmnurkne vars, mis teeb lastel nende käes hoidmise mugavaks; värvitriip pliiatsi peal näitab selgelt selle värvi ning kuna pliiatsivarred on valmistatud mustast puidust, siis ei teki teritamisel värvi kadu.
Flip! ühendab loomingulisuse ja lapseliku leidlikkuse, tuues mängu ka laheda läbipaistva lillaka pliiatsikarbi, mida saab kasutada molbertina, panna seisma sirgelt püsti või hoida pikali.
Eskiisipliiatsite komplekt
12 tk
Kõvadus: 6B, 5B, 4B, 3B, 2B, B, HB, H, 2H, 3H, 4H, 5H
Metallkarbis
Specifications
Product Details
Specifications

| | |
| --- | --- |
| Manufacturer | DERWENT |
| Manufacturer Code | 2301946 |
| Unit | krp |
| Barcodes | 5028252269957 |
| Qty in the package | 6 |
Availability in stores
NB! The stock of the stores seen below is not in real time and does not take bookings into account. Check the availability in stores.
Enquiry Form
Enquiry form
Send us a question to get an offer for the goods, if we do not have enough in the e-shop immediately.
Enquiry info
Kontorikauba pakkumised
Pastapliiats Penac RBR 0,7mm, must , kl...

1.00€

/ tk

Client Price

0.95€

/ tk

Etikett APLI 70x67,7 Ref.1290,

19.90€

/ pk

Client Price

18.91€

/ pk

Needid Apli 17mm. 100tk/pk.

1.49€

/ pk

Client Price

1.42€

/ pk

Karp Organiser kokkupandav, Leitz C&S S...

11.10€

/ tk

Client Price

10.55€

/ tk

Koopiapaber A4 80g Navigator Universal ...

6.30€

/ pk

Client Price

5.99€

/ pk

Liim PVA 40g APLI

0.60€

/ tk

Client Price

0.57€

/ tk