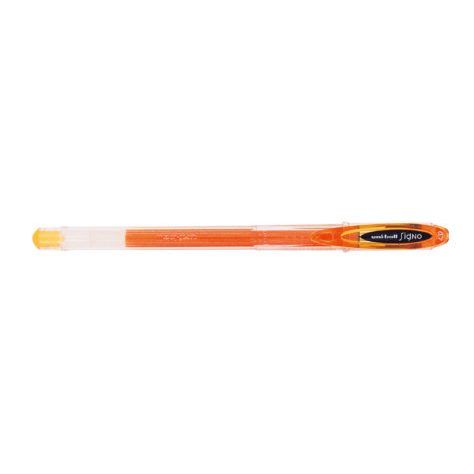 Geelpliiats Uni Signo UM120 oranz 0,5mm
Qty in the package (12 tk)
Qty in the box (144 tk)
1.85€
/ tk
Client Price
1.76€
/ tk
Product Description
Specifications
Availability in stores
Enquiry Form
Product Description
Signo Gel Pen, Orange
The Signo Gel Pen is perfect for adding colour to your notes at home, work or school. The pens use uni Super Ink, a gel ink that is quick drying, water resistant and doesn't fade.

With a vivid range of colours and an eye-catching opaque pigment the Signo Gel Pen is also a staple for crafters. The pens come with a clear barrel, so you can see when they are running out and each has a colour-coded cap.

The 0.7mm nib gives a line of 0.4mm and this pen is available in black, blue, red, green, orange, pink and violet.
Specifications
Product Details
Specifications

| | |
| --- | --- |
| Manufacturer | UNI |
| Manufacturer Code | UM120O |
| Unit | tk |
| Barcodes | 4902778781289 |
| Qty in the package | 12 |
| Qty in the box | 144 |
Attributes
Specifications

| | |
| --- | --- |
| Writing colours | Orange |
| Stroke width | 0.4 mm |
Availability in stores
NB! The stock of the stores seen below is not in real time and does not take bookings into account. Check the availability in stores.
Enquiry Form
Enquiry form
Send us a question to get an offer for the goods, if we do not have enough in the e-shop immediately.
Enquiry info