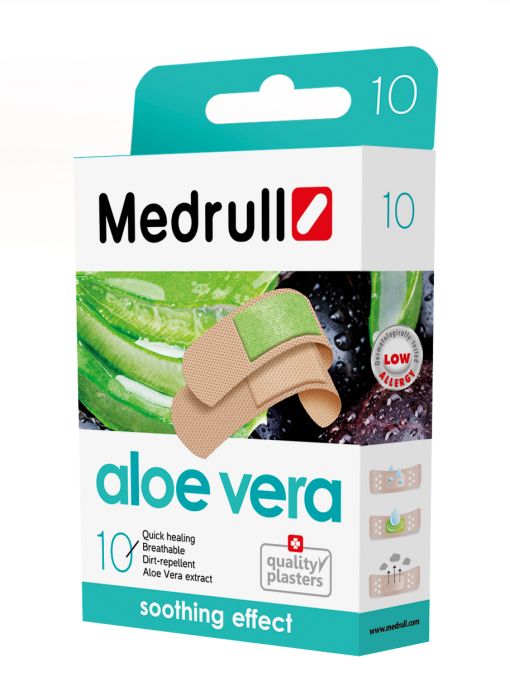 Haavaplaaster Medrull Aloe Vera 20tk/pk
2.09€
/ tk
Client Price
1.99€
/ tk
Product Description
Specifications
Availability in stores
Enquiry Form
Product Description
Plaaster Aloe Vera ekstraktiga 10tk. Tükiline kogus pakendis 19mm x 72mm - 10tk 25mm x 72mm – 6tk diam. 22mm – 4tk
Teaduslikult on tõestatud, et Aloe Vera on looduslik antibiootikum kaitstes bakterite,viiruste,seente eest ja omab valu leevendavat mõju. Tänu naturaalsele plaastri koostisele Aloe Vera kaitseb plaaster haava mikroorganismide ja bakterite eest ning ühtlasi aitab kaasa haava kiiremaks paranemiseks. Soovitame kasutada plaastrit peale haava desinfikstooni. Plaastri omadused: veekindel,mustust mitteläbilaskev, hüpoallergiline,elastne,hingav,hästi kleepuv Absorbeeriv plaastri padjake on suure imavusega ja valmistatud viskoosist. Pealmine osa plaastri padjakesest on töödeldud polüpropüleeniga, mis kaitseb haava. Sisaldab 1.5% Аloe vera ekstrakti.
Specifications
Product Details
Specifications

| | |
| --- | --- |
| Manufacturer | MEDRULL |
| Manufacturer Code | 206012 |
| Unit | tk |
| Barcodes | 4742225004611 |
| Qty in the package | 60 |
Availability in stores
NB! The stock of the stores seen below is not in real time and does not take bookings into account. Check the availability in stores.
Enquiry Form
Enquiry form
Send us a question to get an offer for the goods, if we do not have enough in the e-shop immediately.
Enquiry info
Kontorikauba pakkumised
Pastapliiats Penac RBR 0,7mm, must , kl...

1.00€

/ tk

Client Price

0.95€

/ tk

Etikett APLI 70x67,7 Ref.1290,

19.90€

/ pk

Client Price

18.91€

/ pk

Needid Apli 17mm. 100tk/pk.

1.49€

/ pk

Client Price

1.42€

/ pk

Karp Organiser kokkupandav, Leitz C&S S...

11.10€

/ tk

Client Price

10.55€

/ tk

Koopiapaber A4 80g Navigator Universal ...

6.30€

/ pk

Client Price

5.99€

/ pk

Liim PVA 40g APLI

0.60€

/ tk

Client Price

0.57€

/ tk