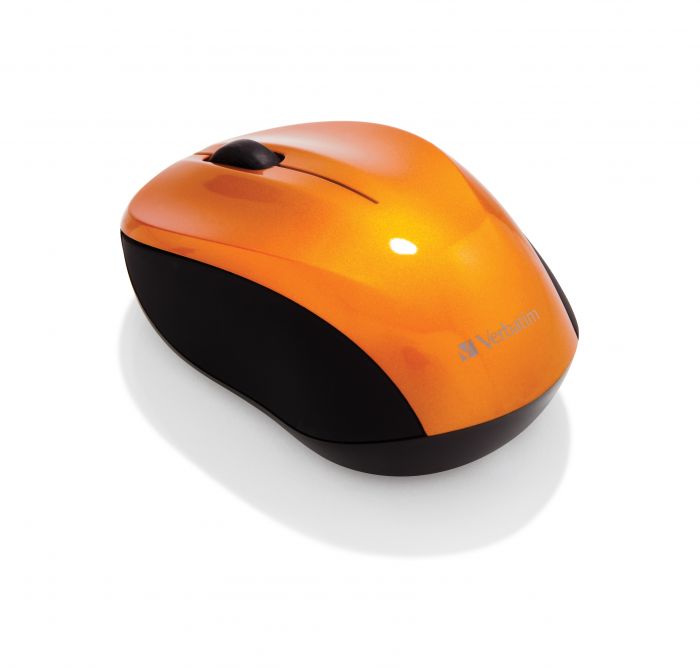 Hiir Verbatim Go Nano Wireless Mouse Volcanic Orange/oranzh juhtmevaba 3-nuppu, 1600dpi, 2xAAA
1600 DPI, 2.4GHz RF, 95 x 58 x 35.45mm, 79g, 2x AAA, Volcanic Orange
Qty in the package (4 tk)
11.70€
/ tk
Client Price
11.12€
/ tk
Product Description
Specifications
Availability in stores
Enquiry Form
Product Description
1600 DPI, 2.4GHz RF, 95 x 58 x 35.45mm, 79g, 2x AAA, Volcanic Orange
Colour coordinate your desk! Match your GO NANO Mouse to your Verbatim Colour Hard Drive!
The GO NANO Mouse from Verbatim is available in 4 bright colours, enabling the most fashion conscious to match their mouse to their laptop, or simply to use your favourite colour!
To use the mouse, simply plug in the nano receiver to a USB port and switch on the mouse. The nano receiver is also small enough for it to be plugged in once and left connected, so it is the perfect mouse to use when on the move or for use on the desktop with minimal fuss.
To preserve battery power, the GO NANO Mouse has a sleep mode. After a short period of inactivity the mouse will enter sleep mode. Simply press any of the buttons to wake it up again.
The GO NANO Mouse has a resolution of 1600dpi for precision movement and control and is designed for comfort with a smooth, textured grip.
- 3 button, 1600dpi wireless mouse
- Plug-in Nano receiver - small enough to leave connected
- 2.4GHz RF wireless technology
- Specially designed for comfort and control with a smooth, textured grip
- Available in 4 colours - Black, Hot Pink, Caribbean Blue and Volcanic Orange
- Free Technical Hotline Support
- Verbatim 2 Year Limited Warranty
Weight & dimensions
Width
58 mm
Depth
95 mm
Height
35.5 mm
Weight
79 g
Power
Power source
Batteries
Battery type
AAA
Number of batteries supported
2
System requirements
Windows operating systems supported
Y
Mac operating systems supported
Mac OS X 10.4 Tiger,Mac OS X 10.5 Leopard,Mac OS X 10.6 Snow Leopard,Mac OS X 10.7 Lion,Mac OS X 10.8 Mountain Lion
Other features
Number of products included
1 pc(s)
USB required
Y
Design
Form factor
Ambidextrous
Product colour
Orange
Ergonomics
Wireless range
10 m
Mouse
Purpose
office
Device interface
RF Wireless
Scroll type
Wheel
Buttons quantity
3
Movement resolution
1600 DPI
Scroll
Y
Number of scroll wheels
1
Frequency band
2.4 GHz
Specifications
Product Details
Specifications

| | |
| --- | --- |
| Manufacturer | VERBATIM |
| Manufacturer Code | 49045 |
| Unit | tk |
| Qty in the package | 4 |
Availability in stores
NB! The stock of the stores seen below is not in real time and does not take bookings into account. Check the availability in stores.
Enquiry Form
Enquiry form
Send us a question to get an offer for the goods, if we do not have enough in the e-shop immediately.
Enquiry info
Kontorikauba pakkumised
Pastapliiats Penac RBR 0,7mm, must , kl...

1.00€

/ tk

Client Price

0.95€

/ tk

Etikett APLI 70x67,7 Ref.1290,

19.90€

/ pk

Client Price

18.91€

/ pk

Needid Apli 17mm. 100tk/pk.

1.49€

/ pk

Client Price

1.42€

/ pk

Karp Organiser kokkupandav, Leitz C&S S...

11.10€

/ tk

Client Price

10.55€

/ tk

Koopiapaber A4 80g Navigator Universal ...

6.30€

/ pk

Client Price

5.99€

/ pk