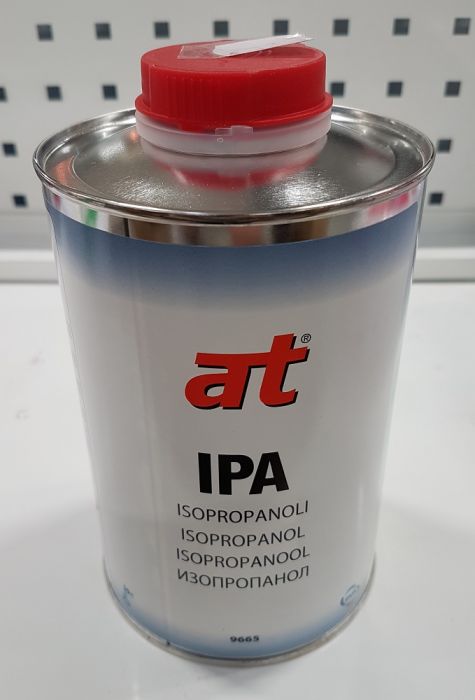 Isopropüülalkohol IPA 1L AT-IPA, eemaldab rasvad, õli, mustuse, tolmu ja vaigu
14.75€
/ tk
Client Price
14.01€
/ tk
Product Description
Specifications
Availability in stores
Enquiry Form
Product Description
Isopropanool on üldpuhastusaine, eemaldab mustuse, õli, rasva ja vaigud.
Kasutusala lahustina ja puhastusvedelikuna värvi-, trüki- ja toiduainetetööstuses.
Ohutusinfo :
Põhjustab tugevat silmade ärritust. Võib põhjustada unisust või peapööritust. Väga tuleohtlik vedelik ja aur. Arsti poole pöördudes võtta kaasa toote pakend või etikett. Hoida lastele kättesaamatus kohas. Hoida eemal soojusallikast, kuumadest pindadest, sädemetest, leekidest ja muudest süüteallikatest. Mitte suitsetada. Peale kasutamist peske käed. Kanda kaitsekindaid/kaitserõivastust/kaitseprille/kaitsemaski. NAHALE (või juustele) SATTUMISE KORRAL: võtta viivitamata kõik saastunud rõivad seljast. Loputada nahka veega/loputada dušši all. SILMA SATTUMISE KORRAL: loputada mitme minuti jooksul ettevaatlikult veega. Eemaldada kontaktläätsed, kui neid kasutatakse ja kui neid on kerge eemaldada. Loputada veel kord. Sisu/mahuti kõrvaldada asukohajärgses eriomaste jäätmete kogumiskohas.
Specifications
Product Details
Specifications

| | |
| --- | --- |
| Manufacturer | AT |
| Manufacturer Code | 9665 |
| Unit | tk |
| Barcodes | 5901764329480 |
Availability in stores
NB! The stock of the stores seen below is not in real time and does not take bookings into account. Check the availability in stores.
Enquiry Form
Enquiry form
Send us a question to get an offer for the goods, if we do not have enough in the e-shop immediately.
Enquiry info