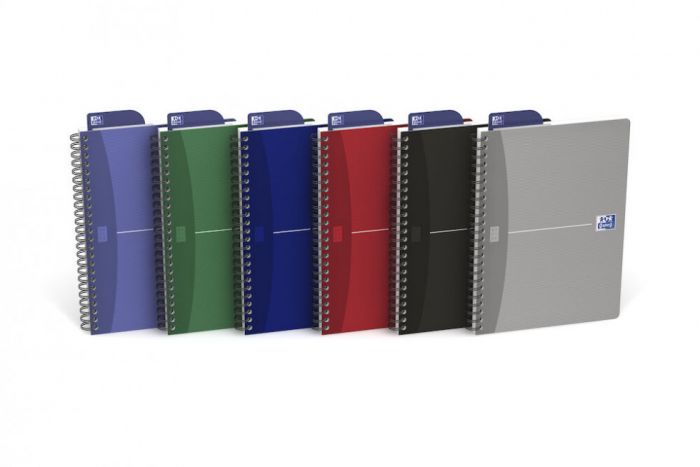 Kaustik A5 jooneline 90lehte spiraalköide plastjoonlaud Oxford Essential assortii
Manufacturer Code
100103741
A5 - Soft Card Cover - Twin-wire - Ruled - 180 Pages - SCRIBZEE Compatible - Assorted Colours
Qty in the package (5 tk)
Qty in the box (20 tk)
4.00€
/ tk
Client Price
3.80€
/ tk
Product Description
Specifications
Availability in stores
Enquiry Form
Product Description
A5 - Soft Card Cover - Twin-wire - Ruled - 180 Pages - SCRIBZEE Compatible - Assorted Colours
If you enjoy using easy to use and practical tools that make everyday working life simpler the OXFORD Essentials range of notebooks is ideal for you. Essentials has a modern design that fits in well in all types of businesses and comes in a variety of classic and contemporary colour options. The Essentials range comprises a wide selection of notebooks in a variety of sizes and binding types like stapled, twin-wire and casebound. The Essentials range of twin-wire notebooks includes both soft card and hardback cover options. Both the soft card and hardback covers are plastic-coated to wipe clean and to stand up to wear and tear.
- Durable plastic-coated soft card cover.
- Useful repositionable bookmark ruler marked with centimetres and millimetres for underlining, measuring or finding your first clean page quickly.
- Ruling with header and margin for organised note-taking.
- Extra-white and smooth 90g Optik Paper.
- Twin-wire binding allows the book to open 360°.
Weight & dimensions
Height
21 mm
Features
Product colour
Pink
Media weight
90 g/m²
Format
A5
Material
Paper
Target audience
Universal
Finish type
Matt
Rounded edges
Y
Coloration
Monotone
Tehnilised andmed tulevad kolmandalt osapoolelt Icecat. Me ei võta vastutust nende andmete õigsuse eest.
Specifications
Product Details
Specifications

| | |
| --- | --- |
| Manufacturer | OXFORD |
| Manufacturer Code | 100103741 |
| Unit | tk |
| Barcodes | 3020120022055 |
| Qty in the package | 5 |
| Qty in the box | 20 |
Availability in stores
NB! The stock of the stores seen below is not in real time and does not take bookings into account. Check the availability in stores.
Enquiry Form
Enquiry form
Send us a question to get an offer for the goods, if we do not have enough in the e-shop immediately.
Enquiry info