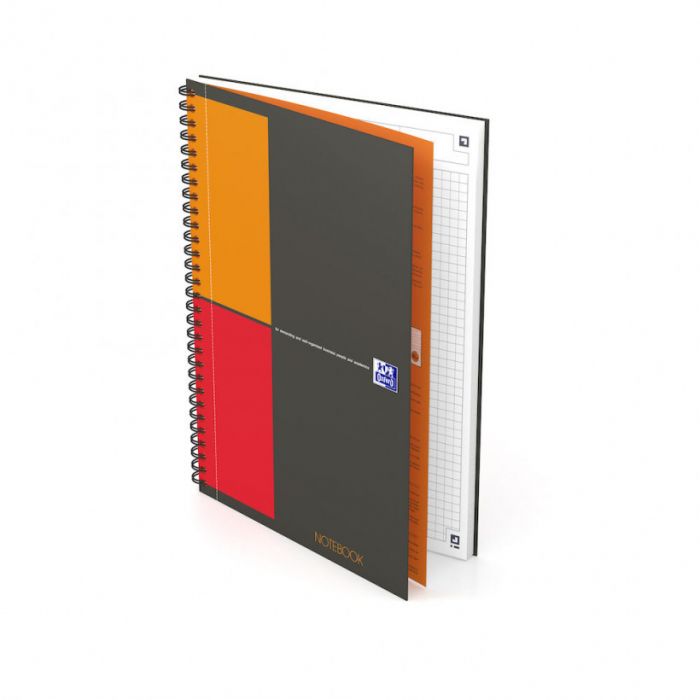 OXFORD INTERNATIONAL NOTEBOOK, B5, SQUARED
Manufacturer Code
400080784
B5 - Hardback Cover - Twin-wire - 5mm Squares - 160 Pages - SCRIBZEE Compatible - Grey
Qty in the package (5 tk)
Qty in the box (20 tk)
Product Description
Specifications
Availability in stores
Enquiry Form
Product Description
B5 - Hardback Cover - Twin-wire - 5mm Squares - 160 Pages - SCRIBZEE Compatible - Grey
As an executive your demanding lifestyle means you need a notebook that lets you get the job done quickly and efficiently. That's why Oxford has created International, a range of notebooks designed with the specific needs of managers and executives in mind. The International Notebook is Europe's n°1 best-selling business notebook. The classic hard cover twin-wire version features smart-ruled pages with a multipurpose header for recording subject or meeting titles and the date as well as double margins for highlighting valuable information. Available in A5+, A4+ and B5 sizes the Notebook has a 5mm squared ruling as well as 160 microperforated pages. Oxford's exclusive high quality smooth, white 80gsm Optik Paper allows you to to write on both sides of the page with no show-through of ink.
- Lightweight and hard-wearing hard back covers offer added protection of notes.
- 360° twin-wire binding allows the book to fold back making for easy use in a plane or train.
- Perforated and pre-punched sheets allow for easy removal with a clean edge and make filing quick and simple.
- Smart-ruled pages feature a multipurpose header as well as double margins for organised note-taking.
- 160 pages
Weight & dimensions
Width
18 mm
Height
25 mm
Features
Product colour
Grey
Coloration
Monotone
Target audience
Universal
Format
B5
Finish type
Matt
Media weight
80 g/m²
Rounded edges
Y
Material
Paper
Tehnilised andmed tulevad kolmandalt osapoolelt Icecat. Me ei võta vastutust nende andmete õigsuse eest.
Specifications
Product Details
Specifications

| | |
| --- | --- |
| Manufacturer | OXFORD |
| Manufacturer Code | 400080784 |
| Unit | tk |
| Barcodes | 3020120097299 |
| Qty in the package | 5 |
| Qty in the box | 20 |
Availability in stores
NB! The stock of the stores seen below is not in real time and does not take bookings into account. Check the availability in stores.
Enquiry Form
Enquiry form
Send us a question to get an offer for the goods, if we do not have enough in the e-shop immediately.
Enquiry info