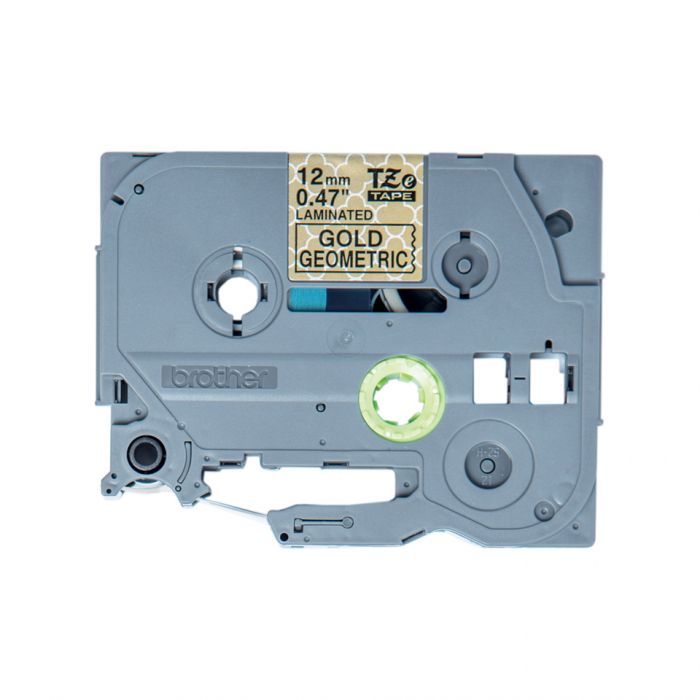 Kleepkirjalint Brother TZE-MPGG31 kuldne muster, must tekst, laius 12mm
Manufacturer Code
TZEMPGG31
Genuine Labelling Tape Cassette – Black On Gold Pattern, 12mm wide
10.20€
/ tk
Client Price
9.69€
/ tk
Product Description
Specifications
Availability in stores
Enquiry Form
Product Description
Genuine Labelling Tape Cassette – Black On Gold Pattern, 12mm wide
This TZe-MPGG31 laminated labelling tape has been rigorously tested by Brother to be as durable and dependable as possible.
Whether you're looking to label up files or folder in your home office, create unique crafts with your kids or easily identify jars of food around the kitchen, this label tape is a lovely way to show your care.
Composed of several layers, this versatile laminated TZe-MPGG31 tape enables you to create labels that remain as crisp and readable as the day they were applied.
By choosing genuine Brother TZe-MPGG31 labelling tape, you'll ensure that your machine continues to work at its best, providing you with results that are clear, legible and designed to last.
Weight & dimensions
Tape width
1.2 cm
Tape length
4 m
Features
Label colour
Black on gold
Tape type
TZe
Product colour
Grey
Print technology
Thermal Transfer
Chemical-resistant
Y
Laminated
Y
Brand compatibility
Brother
Compatibility
PT-1000
GL-100
GL-200
PT-1000L
PT-1005
PT-1010
PT-1010L
PT-1080
PT-1090
PT-1290
PT-1280VP
PT-1750
PT-1830
PT-18R
PT-1950
PT-2100
PT-2420PC
PT-2430PC
PT-2470
PT-2480
PT-2700VP
PT-2730VP
PT-7100
PT-3600
PT-7500VP
PT-7600VP
PT-9200DX
PT-9400DX
PT-9500PC
PT-9700PC
PT-9800PCN
PT-D200VP
PT-E100VP
PT-E300VP
PT-H300
PT-H500
PT-H75
PT-P700
PT-P750W
RL-700S
PT-P900W
PT-P950NW
PT-D800W
PT-D210VP
PT-D400
PT-D450VP
PT-D600VP
PT-E110VP
Specifications
Product Details
Specifications

| | |
| --- | --- |
| Manufacturer | BROTHER |
| Manufacturer Code | TZEMPGG31 |
| Unit | tk |
| Barcodes | 4977766770194 |
Attributes
Specifications

| | |
| --- | --- |
| The amount of stickers | Jooksev |
| Teip width(mm) | 12 |
| Color of tape | Pattern |
| Measures | Jooksev |
| Length of tape (m) | 8 |
| Text Color | Black |
Availability in stores
NB! The stock of the stores seen below is not in real time and does not take bookings into account. Check the availability in stores.
Enquiry Form
Enquiry form
Send us a question to get an offer for the goods, if we do not have enough in the e-shop immediately.
Enquiry info