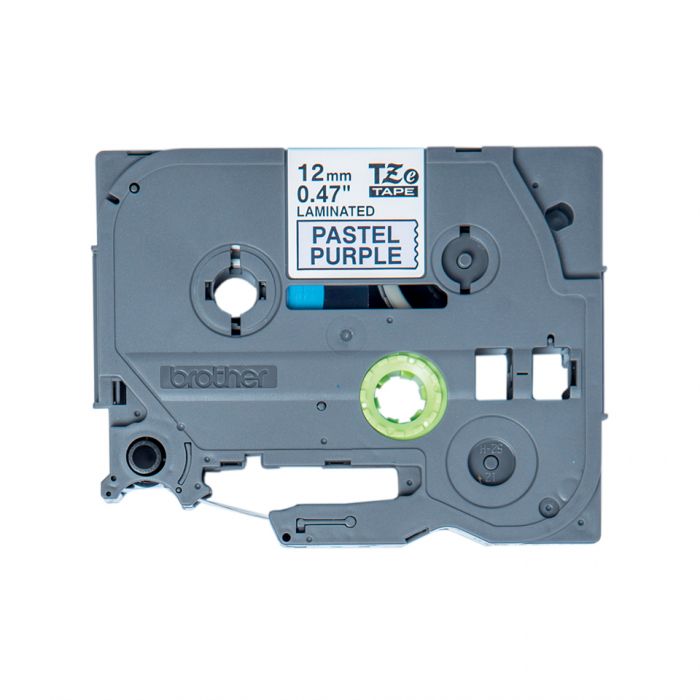 Kleepkirjalint Brother TZE-MQF31 pastellililla, must tekst, laius 12mm
Manufacturer Code
TZEMQF31
12mm black on pastel purple P-touch TZe tape cassette (4 metres)
10.20€
/ tk
Client Price
9.69€
/ tk
Product Description
Specifications
Availability in stores
Enquiry Form
Product Description
12mm black on pastel purple P-touch TZe tape cassette (4 metres)
- Black text on pastel purple laminated tape
- 12mm wide
- 4 metres long
- Standard adhesive
Ideal for personalising items with a stylish label, this light purple coloured label looks great on notebooks and school books, gifts and presents, and is perfect for use all around the home including marking jars and other items in the kitchen, or files and folders in the study or office.
Use the various features of your P-touch labelling machine to add a touch of elegance to your labels.
TZe tape cassettes are quick and easy to install, and come in various label widths, colours and materials - ensuring your P-touch machine can be used for all labelling needs.
Brother P-touch laminated labels have been developed to last, even under extreme conditions, and are able to withstand extremes of temperature, sunlight, water, chemicals and abrasion.
Weight & dimensions
Tape width
1.2 cm
Tape length
4 m
Quantity per pack
1 pc(s)
Features
Label colour
Black
Tape type
TZe
Product colour
Grey
Print technology
Thermal Transfer
Finish type
Gloss
Laminated
Y
Compatibility
Brother PT-E110VP
Packaging content
Package type
Blister
Specifications
Product Details
Specifications

| | |
| --- | --- |
| Manufacturer | BROTHER |
| Manufacturer Code | TZEMQF31 |
| Unit | tk |
| Barcodes | 4977766770521 |
Attributes
Specifications

| | |
| --- | --- |
| The amount of stickers | Jooksev |
| Teip width(mm) | 12 |
| Color of tape | Purple |
| Measures | Jooksev |
| Length of tape (m) | 8 |
| Text Color | Black |
Availability in stores
NB! The stock of the stores seen below is not in real time and does not take bookings into account. Check the availability in stores.
Enquiry Form
Enquiry form
Send us a question to get an offer for the goods, if we do not have enough in the e-shop immediately.
Enquiry info
Kontorikauba pakkumised
Pastapliiats Penac RBR 0,7mm, must , kl...

1.00€

/ tk

Client Price

0.95€

/ tk

Etikett APLI 70x67,7 Ref.1290,

19.90€

/ pk

Client Price

18.91€

/ pk

Needid Apli 17mm. 100tk/pk.

1.49€

/ pk

Client Price

1.42€

/ pk

Karp Organiser kokkupandav, Leitz C&S S...

11.10€

/ tk

Client Price

10.55€

/ tk

Koopiapaber A4 80g Navigator Universal ...

6.30€

/ pk

Client Price

5.99€

/ pk

Liim PVA 40g APLI

0.60€

/ tk

Client Price

0.57€

/ tk