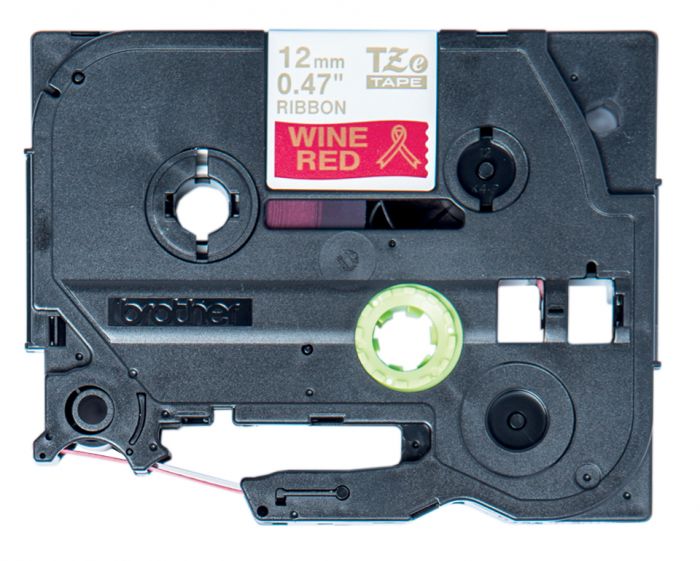 Kleepkirjalint Brother TZE-RW34 kaunistusteks sobiv lint, veinipunane, kuldne tekst, laius 12mm
Manufacturer Code
TZERW34
Genuine Ribbon Tape Cassette – Gold on Wine Red, 12mm wide
10.20€
/ tk
Client Price
9.69€
/ tk
Product Description
Specifications
Availability in stores
Enquiry Form
Product Description
Genuine Ribbon Tape Cassette – Gold on Wine Red, 12mm wide
Use the TZe-RW34 together with your P-touch printer to express your best wishes to loved ones on special occasions. Work your magic to add a personalised touch to gifts, cards and crafts, with the genuine Brother TZe-RW34 ribbon tape.
With the TZe-RW34 you can enjoy fast and reliable output, as well as a sharp and professional standard of printing. The beautiful Gold on Wine Brother TZe-RW34 labelling tape is guaranteed to provide you with quality labels.
With a luxury shiny finish this is non-adhesive fabric ribbon is perfect for present wrapping and crafting.
Weight & dimensions
Tape length
4 m
Tape width
1.2 cm
Features
Tape type
TZe
Product colour
Black
Print technology
Thermal Transfer
Water-resistant
Y
Chemical-resistant
Y
Brand compatibility
Brother
Label colour
Gold on red
Laminated
Y
Compatibility
PT-1000
GL-100
GL-200
PT-1000L
PT-1005
PT-1010
PT-1010L
PT-1080
PT-1090
PT-1290
PT-1280VP
PT-1750
PT-1830
PT-18R
PT-1950
PT-2100
PT-2420PC
PT-2430PC
PT-2470
PT-2480
PT-2700VP
PT-2730VP
PT-7100
PT-3600
PT-7500VP
PT-7600VP
PT-9200DX
PT-9400DX
PT-9500PC
PT-9700PC
PT-9800PCN
PT-D200VP
PT-E100VP
PT-E300VP
PT-H300
PT-H500
PT-H75
PT-P700
PT-P750W
RL-700S
PT-P900W
PT-P950NW
PT-D800W
PT-D210VP
PT-D400
PT-D450VP
PT-D600VP
PT-E110VP
Specifications
Product Details
Specifications

| | |
| --- | --- |
| Manufacturer | BROTHER |
| Manufacturer Code | TZERW34 |
| Unit | tk |
| Barcodes | 4977766770378 |
Attributes
Specifications

| | |
| --- | --- |
| The amount of stickers | Jooksev |
| Teip width(mm) | 12 |
| Color of tape | Red |
| Measures | Jooksev |
| Length of tape (m) | 8 |
| Text Color | Golden |
Availability in stores
NB! The stock of the stores seen below is not in real time and does not take bookings into account. Check the availability in stores.
Enquiry Form
Enquiry form
Send us a question to get an offer for the goods, if we do not have enough in the e-shop immediately.
Enquiry info
Kontorikauba pakkumised
Pastapliiats Penac RBR 0,7mm, must , kl...

1.00€

/ tk

Client Price

0.95€

/ tk

Etikett APLI 70x67,7 Ref.1290,

19.90€

/ pk

Client Price

18.91€

/ pk

Needid Apli 17mm. 100tk/pk.

1.49€

/ pk

Client Price

1.42€

/ pk

Karp Organiser kokkupandav, Leitz C&S S...

11.10€

/ tk

Client Price

10.55€

/ tk

Koopiapaber A4 80g Navigator Universal ...

6.30€

/ pk

Client Price

5.99€

/ pk