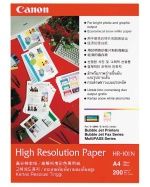 Paber Canon HR-101 A3 20lehte 100gr/m2, High resolution paper
Manufacturer Code
1033A006
HR-101N A3 High Resolution PAPER (20 sheets)
7.79€
/ tk
Client Price
7.40€
/ tk
Product Description
Specifications
Availability in stores
Enquiry Form
Product Description
HR-101N A3 High Resolution PAPER (20 sheets)
Canon is a leader in professional business and consumer imaging equipment and information systems. Its extensive product line and digital solutions enable businesses and consumers worldwide to capture, store, and distribute information. Whatever the product, Canon's emphasis on quality as well as original technologies has earned the trust of customers around the world.
Superwhite 110gsm photo quality, water resistant matte finish paper - 20 pack.
Specifications
Product Details
Specifications

| | |
| --- | --- |
| Manufacturer | CANON |
| Manufacturer Code | 1033A006 |
| Unit | tk |
| Barcodes | 4960999867076 |
Availability in stores
NB! The stock of the stores seen below is not in real time and does not take bookings into account. Check the availability in stores.
Enquiry Form
Enquiry form
Send us a question to get an offer for the goods, if we do not have enough in the e-shop immediately.
Enquiry info