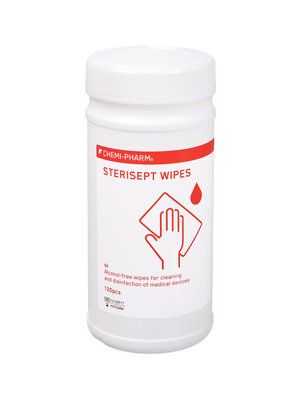 Pesemis- ja desiniftseerimisrätikud Sterisept Wipes pindade puhastamiseks (alkoholivabad) 120tk/topsis
Manufacturer Code
14/0000120
Qty in the package (12 tk)
9.08€
/ tk
Client Price
8.63€
/ tk
Product Description
Specifications
Availability in stores
Enquiry Form
Product Description
Fenooli-, aldehüüdi- ja fosfaadivabad Sterisept lahusega immutatud rätikud meditsiiniseadmete pindade pesemiseks ja desinfitseerimiseks.
Pindaktiivsete ainete sisalduse tõttu on tootel head puhastavad omadused. Toode on materjalisõbralik ning sobib kõikide veepesu taluvate pindade pesemiseks, ei muuda pindade visuaalset väljanägemist. Toode on sisaldab korrosiooni inhibiitorit. Toode on bakteritsiidse (k.a. Mycobacterium terrae), virutsiidse (k.a HBV, HIV) ja fungitsiidse toimega.
Specifications
Product Details
Specifications

| | |
| --- | --- |
| Manufacturer | CHEMIPHARM |
| Manufacturer Code | 14/0000120 |
| Unit | tk |
| Barcodes | 4742124008116 |
| Qty in the package | 12 |
Availability in stores
NB! The stock of the stores seen below is not in real time and does not take bookings into account. Check the availability in stores.
Enquiry Form
Enquiry form
Send us a question to get an offer for the goods, if we do not have enough in the e-shop immediately.
Enquiry info