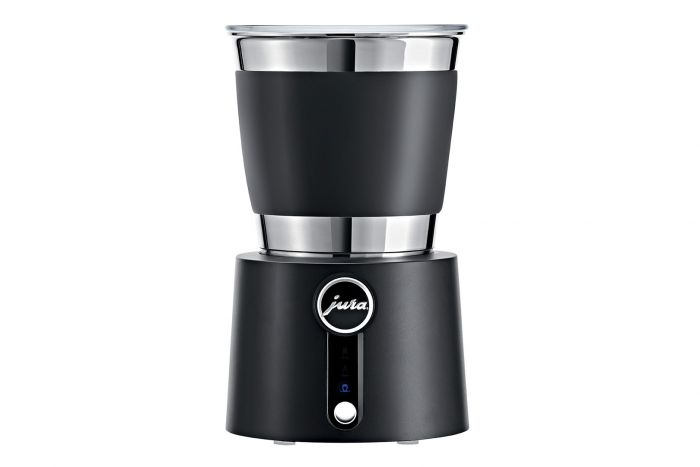 Piimavahustuskann Jura Milk Frother, automaatme (külm/soe/kuum piimavaht)
99.00€
/ tk
Client Price
94.05€
/ tk
Product Description
Specifications
Availability in stores
Enquiry Form
Product Description
Automaatne piimavahustuskann Hot & Cold JURA.
Piimavahu maagia
Kerge ja mitmekülgne JURA automaatne piimavahustaja valmistab Sulle nii kuuma kui külma õhulist ja peent piimavahtu. Piimavahusti disain on ühteaegu lihtne ja klassikaline.
JURA kvaliteetsed materjalid teevad kasutamise lihtsaks ja kiireks ning tagavad korraliku hügieeni. Kahe lisaga vahusti valmistab Sulle külma, sooja või kuuma piima või piimavahtu vaid ühe nupuvajutusega. JURA automaatse piimavahusti saad lisada igale kohvimasinale ja see aitab hõlpsalt valmistada kõiki piimaga kohvijooke, aga ka lihtsalt kuuma piima, kakaod või chai´d. Peenvahustatud piim aitab Sul ellu viia põnevad ja trendikad retseptiideed ning baristanipid.
Lai valik retsepte
Õhuline ja kreemjas piimavaht annab moekatele kohvijookidele vajaliku värskuse ja kerguse, seda tunned nii maitses kui näed ka kohvijookide lõppviimistluse elegantsis. Automaatne piimavahusti võimaldab valmistada külmi, sooje või kuumasid maagilisi joogihõrgutisi igaks hooajaks. Kuidas Sulle meeldiks kuum kakao talvel, puuviljamaitseline külm Romanoff kevadel, värskendav jäine flat white suvel või jäine chai latte sügisel? Kaasasolev retseptiraamat pakub Sulle isuäratavat inspiratsiooni eriliste kohvijookide valmistamiseks - lase fantaasial vabalt rännata!
Külm piimavaht vaid nupuvajutusega
JURA piimavahusti on nii lihtne, et ka lapsed saavad sellega iseseisvalt hakkama. Lihtsalt vajuta nuppu üks, kaks või kolm korda ja piimakonteineris vahustatakse külm, soe või kuum piim. Arusaadavad värvilised ikoonid kinnitavad valitud režiimi.
Tunnustatud disain
Automaatse piimavahusti väljanägemine kajastab JURA klassikalist disaini ja kasutuslihtsust. Seadme meeldivalt pehme käepide ja elegantsed kroomdetailid avaldavad kasutajatele muljet. Roostevaba teras ja ümmargused vormid muudavad piimavahusti hõlpsasti hooldatavaks ja puhastatavaks.
Kompaktne
Automaatse piimavahusti mõõtmed on 13 × 21 cm, mis tähendab, et see mahub suurepäraselt igasse köögikappi. Piimavahusti lisasid saab hõlpsalt hoiustada vahusti põhjas.
Tehnilised andmed:
Toitejuhtme pikkus: 0,8 m
Võimsus: 550 - 650 vatt
Pinge: 120 - 240 V ~
Sagedus: 50 - 60 Hz
Kaal: 1 kg
Laius: 12,5 cm
Kõrgus: 20,9 cm
Sügavus: 12,5 cm
Specifications
Product Details
Specifications

| | |
| --- | --- |
| Manufacturer | JURA |
| Manufacturer Code | 24019 |
| Unit | tk |
| Barcodes | 7610917240197 |
Availability in stores
NB! The stock of the stores seen below is not in real time and does not take bookings into account. Check the availability in stores.
Enquiry Form
Enquiry form
Send us a question to get an offer for the goods, if we do not have enough in the e-shop immediately.
Enquiry info