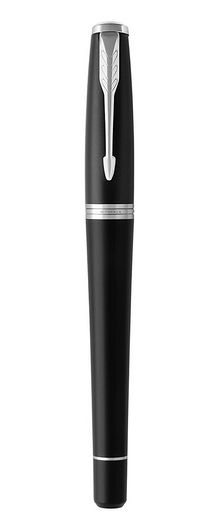 Sulepea Parker Urban Muted Black CT,Fine
Manufacturer Code
1931592
Urban Muted Black Chrome Fountain Pen - Fine nib
60.00€
/ tk
Client Price
57.00€
/ tk
Product Description
Specifications
Availability in stores
Enquiry Form
Product Description
Urban Muted Black Chrome Fountain Pen - Fine nib
Distinctive style with remarkable performance. The eye-catching Urban takes over a century of Parker tradition into dynamic new territory. With its inimitable curved design and range of finishes, it was crafted to compliment personal style and elevate the confidence behind every word.
Features
Product colour
Black,Chrome
Housing material
Aluminium,Brass,Chrome
Nib material
Stainless steel
Writing colours
Blue
Line size
Fine
Ink filling system
Cartridge filling system
Nib shape
Round nib
Hand orientation
Ambidextrous
Clip
Y
Weight & dimensions
Package type
Box
Packaging content
Quantity per pack
1 pc(s)
Tehnilised andmed tulevad kolmandalt osapoolelt Icecat. Me ei võta vastutust nende andmete õigsuse eest.
Specifications
Product Details
Specifications

| | |
| --- | --- |
| Manufacturer | PARKER |
| Manufacturer Code | 1931592 |
| Unit | tk |
| Barcodes | 3501179315928 |
Availability in stores
NB! The stock of the stores seen below is not in real time and does not take bookings into account. Check the availability in stores.
Enquiry Form
Enquiry form
Send us a question to get an offer for the goods, if we do not have enough in the e-shop immediately.
Enquiry info