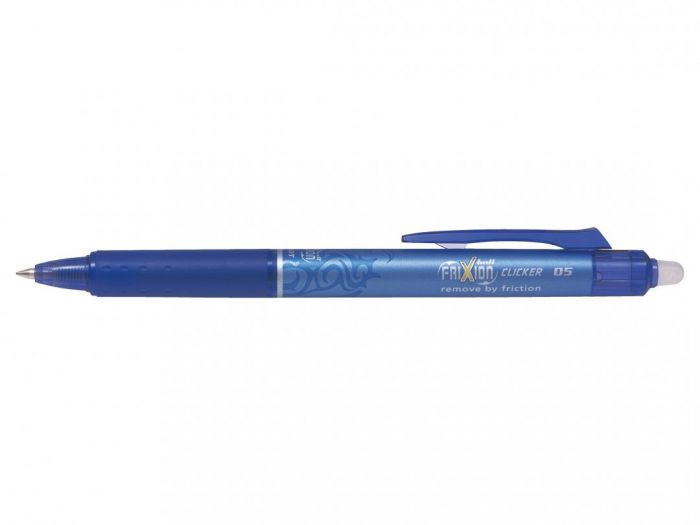 Tindipliiats Pilot Frixion CLICKer 0,5mm, kustutatav sinine
FriXion Ball Clicker 0.5, Gel Ink Rollerball, Blue, Fine Tip
Qty in the package (12 tk)
Qty in the box (144 tk)
2.80€
/ tk
Client Price
2.66€
/ tk
Product Description
Specifications
Availability in stores
Enquiry Form
Product Description
FriXion Ball Clicker 0.5, Gel Ink Rollerball, Blue, Fine Tip
Write, Erase, Repeat! NEVER cross out again with FriXion Ball Clicker, the RETRACTABLE erasable pen from Pilot!
Write smoothly with the fine-point FriXion Ball Clicker, erase with the FriXion eraser and rewrite immediately. Pilot's best-selling rollerball allows you to cleanly write, erase the ink by friction and rewrite - all with the same pen. Simply rub out your mistakes with the eraser stud and watch the ink disappear as if by magic! The unique gel ink responds to the heat generated by the rubbing out, and lets you write over your mistake immediately with the same pen.
Thanks to the patented thermo-sensitive ink, PILOT has - true to tradition - revolutionised writing with the erasable pen FriXion Ball Clicker. Available in a variety of shades, there's a FriXion Ball Clicker for everyone!
Save yourself money and be kind to the environment by refilling your FriXion Ball Clicker pen instead of buying a new one - it's never been easier to be green!
0.5mm tip gives a 0.25mm fine stroke width.
Because of the erasable ink, FriXion Ball Clicker must not to be used for signatures, legal documents, examination papers or other documents where writing needs to be of a permanent nature.

- Thanks to the erasable thermo-sensitive ink: Write, FriXion it and Rewrite immediately!
- Effectiveness and writing comfort thanks to the unique fluidity and ultra-softness of the Pilot gel ink
- Ergonomic, with a grip to ensure a perfect hold control
- Refillable product more economical and respectful of the environment
- A fine retractable tip that pops out with a click: no more lost caps!
Specifications
Product Details
Specifications

| | |
| --- | --- |
| Manufacturer | PILOT |
| Manufacturer Code | 417375 |
| Unit | tk |
| Barcodes | 4902505417375 |
| Qty in the package | 12 |
| Qty in the box | 144 |
| Qty in the pallet | 864 |
Attributes
Specifications

| | |
| --- | --- |
| Writing colours | Blue |
| Stroke width | 0.25 mm |
Availability in stores
NB! The stock of the stores seen below is not in real time and does not take bookings into account. Check the availability in stores.
Enquiry Form
Enquiry form
Send us a question to get an offer for the goods, if we do not have enough in the e-shop immediately.
Enquiry info
Kontorikauba pakkumised
Pastapliiats Penac RBR 0,7mm, must , kl...

1.00€

/ tk

Client Price

0.95€

/ tk

Etikett APLI 70x67,7 Ref.1290,

19.90€

/ pk

Client Price

18.91€

/ pk

Needid Apli 17mm. 100tk/pk.

1.49€

/ pk

Client Price

1.42€

/ pk

Karp Organiser kokkupandav, Leitz C&S S...

11.10€

/ tk

Client Price

10.55€

/ tk

Koopiapaber A4 80g Navigator Universal ...

6.30€

/ pk

Client Price

5.99€

/ pk