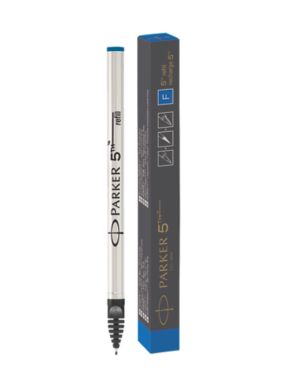 Tindisüdamik PARKER 5TH F sinine,sobib mudelile Ingenuity
Manufacturer Code
1950275
Parker 5THTM, Fine, Blue ink
Qty in the package (12 tk)
Qty in the box (80 tk)
5.99€
/ tk
Client Price
5.69€
/ tk
Product Description
Specifications
Availability in stores
Enquiry Form
Product Description
Parker 5THTM, Fine, Blue ink
The breakthrough Parker 5TH Technology features a flexible writing tip designed to interact with the engraved metallic hood. This new innovation creates an unparalleled writing experience featuring an effortlessly smooth, smart gliding feeling. The unique tip adjusts to your own writing style in just a few words producing pleasurable and beautiful penmanship.
Features
Product colour
Black,White
Line size
Fine
Writing colours
Blue
Suitable for pen type
Fountain pen
Packaging content
Quantity per pack
1 pc(s)
Tehnilised andmed tulevad kolmandalt osapoolelt Icecat. Me ei võta vastutust nende andmete õigsuse eest.
Specifications
Product Details
Specifications

| | |
| --- | --- |
| Manufacturer | PARKER |
| Manufacturer Code | 1950275 |
| Unit | tk |
| Barcodes | 3501179502755 |
| Qty in the package | 12 |
| Qty in the box | 80 |
Availability in stores
NB! The stock of the stores seen below is not in real time and does not take bookings into account. Check the availability in stores.
Enquiry Form
Enquiry form
Send us a question to get an offer for the goods, if we do not have enough in the e-shop immediately.
Enquiry info
Kontorikauba pakkumised
Liim PVA 40g APLI

0.60€

/ tk

Client Price

0.57€

/ tk

Pastapliiats Penac RBR 0,7mm, must , kl...

1.00€

/ tk

Client Price

0.95€

/ tk

Needid Apli 17mm. 100tk/pk.

1.49€

/ pk

Client Price

1.42€

/ pk

Kaustik A5 jooneline 60lehte spiraalköi...

Koopiapaber A4 80g Navigator Universal ...

6.30€

/ pk

Client Price

5.99€

/ pk