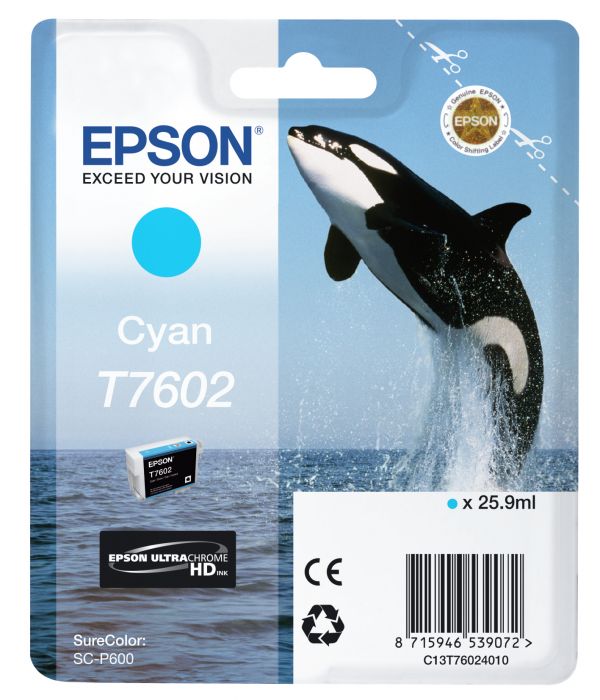 Tint Epson T7602 Cyan 25.9ml SureColor P600
Manufacturer Code
C13T76024010
33.50€
/ tk
Client Price
31.83€
/ tk
Product Description
Specifications
Availability in stores
Enquiry Form
Product Description
T7602 Cyan
Experience amazing colour fidelity with this ink that is part of a nine-colour system that produces a wide colour gamut.
All of these new inks have a high optical density and improves gradation in dark areas, meaning your images will have stunning detail when printed in both colour and black and white. Bronzing reduction allows for highly accurate colour tones.
Weight & dimensions

Package height
120 mm
Package width
145 mm
Package depth
33 mm

Features

Print technology
Inkjet printing
Printing colours
Cyan
Country of origin
Indonesia
OEM code
C13T76024010
Brand compatibility
Epson
Colour ink volume
25.9 ml
Compatibility
SureColor SC-P600
Quantity per pack
1 pc(s)
Type
Original

Logistics data

Quantity per pallet
2400 pc(s)
Minimum order quantity
8 pc(s)
Master (outer) case width
12 cm
Master (outer) case length
26 cm
Master (outer) case height
14.6 cm
Quantity per master (outer) case
1 pc(s)
Quantity per pallet layer
240 pc(s)
Quantity per pallet layer (UK)
240 pc(s)
Quantity per pallet (UK)
2400 pc(s)
Tehnilised andmed tulevad kolmandalt osapoolelt.
Specifications
Product Details
Specifications

| | |
| --- | --- |
| Manufacturer | EPSON |
| Manufacturer Code | C13T76024010 |
| Unit | tk |
| Barcodes | 8715946539072 |
Availability in stores
NB! The stock of the stores seen below is not in real time and does not take bookings into account. Check the availability in stores.