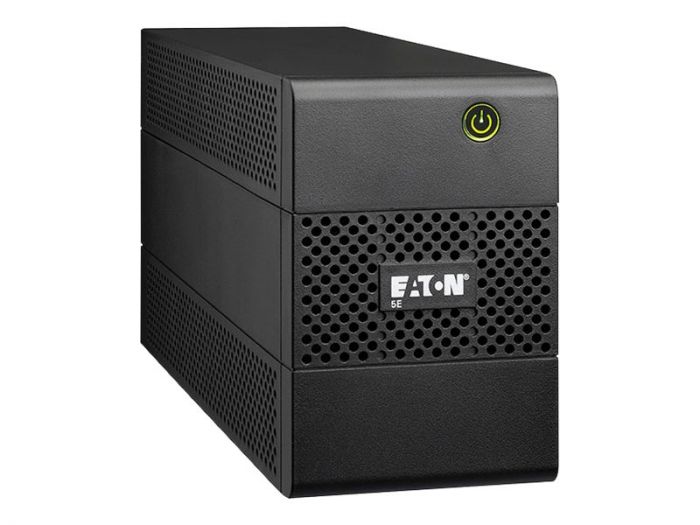 UPS Eaton 5E 650VA/360W line-interactive, 1 Schuko (DIN), 2 IEC C13 (10A) outputs, USB
Manufacturer Code
5E650iUSBDIN
60.50€
/ tk
Client Price
57.48€
/ tk
Product Description
Specifications
Availability in stores
Enquiry Form
Product Description
The Eaton 5E is an essential line interactive UPS that provides cost effective and reliable power protection against power outages and bad power quality. Thanks to its small size the 5E can be installed easily either in a business environment or at home.
Work through under and overvoltage without wasting battery thanks to Automatic Voltage Regulation (AVR)
Rely on batteries anytime: 5E batteries are permanently recharged (even when off) and UPS can start without mains
Avoid back door damages coming through phone lines: 5E USB models are equipped with data line surge protection
Plug easily any equipment to the UPS thanks to IEC and Schuko outlets
Install 5E anywhere thanks to its small size
Easily manage your UPS from your PC
Specifications
Product Details
Specifications

| | |
| --- | --- |
| Manufacturer | EATON |
| Manufacturer Code | 5E650iUSBDIN |
| Unit | tk |
| Barcodes | 5E650iUSBDIN |
Availability in stores
NB! The stock of the stores seen below is not in real time and does not take bookings into account. Check the availability in stores.
Enquiry Form
Enquiry form
Send us a question to get an offer for the goods, if we do not have enough in the e-shop immediately.
Enquiry info