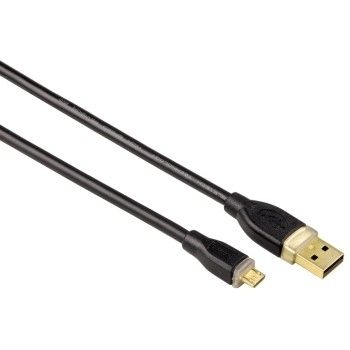 USB-kaabel Hama USB-A -> microUSB, 1.8m, kullatud kontaktid, õhukesed ja väikesed pistikud, must, topeltvarjestus
USB Connecting Cable, USB-A Plug - Micro USB Plug, 1.8 m, black
Qty in the package (6 tk)
7.99€
/ tk
Client Price
7.59€
/ tk
Product Description
Specifications
Availability in stores
Enquiry Form
Product Description
USB Connecting Cable, USB-A Plug - Micro USB Plug, 1.8 m, black
- To connect peripherals and electronic devices with micro USB socket (e.g. for Nokia 6500 Slide) to a PC/notebook or USB hub.
- USB 2.0 (downward compatible).
- Gold-plated plug housings/contacts.
- Colour: black.
- For connecting a PC/notebook to a USB terminal device (e.g. to a smartphone, tablet PC, external hard drive, smartwatch, Bluetooth speaker)
- Sturdy plugs and moulded strain reliefs, high mechanical resistance
- Suitable and tested for USB 2.0, downward compatible with USB 1.1
- Twisted data lines (twisted pairs)
- Ideal for charging, data transfer and synchronization
Features
Product colour
Black
Cable length
1.8 m
Maximum data transfer rate
480 Mbit/s
Connector 1
USB A
Tehnilised andmed tulevad kolmandalt osapoolelt Icecat. Me ei võta vastutust nende andmete õigsuse eest.
Specifications
Product Details
Specifications

| | |
| --- | --- |
| Manufacturer | HAMA |
| Manufacturer Code | 78419 |
| Unit | tk |
| Barcodes | 4007249784193 |
| Qty in the package | 6 |
Availability in stores
NB! The stock of the stores seen below is not in real time and does not take bookings into account. Check the availability in stores.
Enquiry Form
Enquiry form
Send us a question to get an offer for the goods, if we do not have enough in the e-shop immediately.
Enquiry info
Kontorikauba pakkumised
Pastapliiats Penac RBR 0,7mm, must , kl...

1.00€

/ tk

Client Price

0.95€

/ tk

Etikett APLI 70x67,7 Ref.1290,

19.90€

/ pk

Client Price

18.91€

/ pk

Needid Apli 17mm. 100tk/pk.

1.49€

/ pk

Client Price

1.42€

/ pk

Karp Organiser kokkupandav, Leitz C&S S...

11.10€

/ tk

Client Price

10.55€

/ tk

Koopiapaber A4 80g Navigator Universal ...

6.30€

/ pk

Client Price

5.99€

/ pk