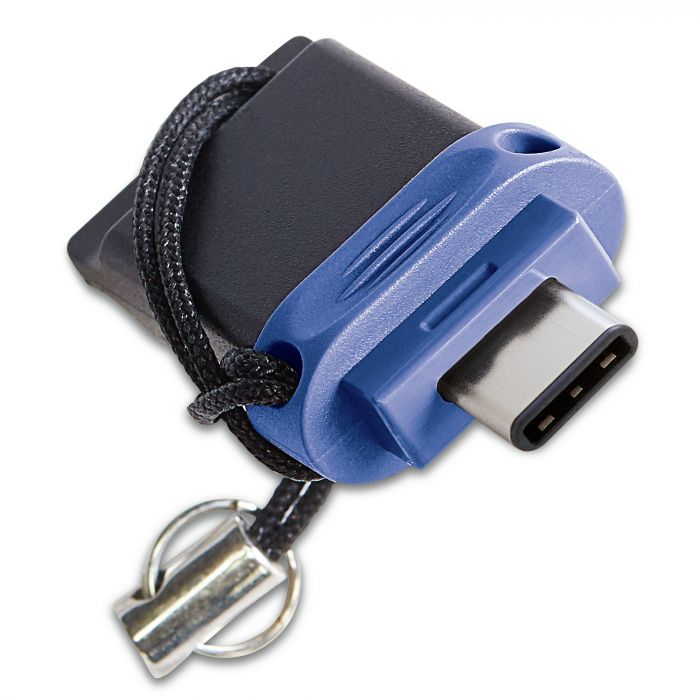 USB-mälupulk Verbatim 64GB Dual Drive (USB-C/USB-A) USB Type-C/USB3.0 34mmx19mmx7mm (Win/MAC
64 GB, USB-C/USB 3.0, 34 x 19 x 7 mm
Qty in the package (10 tk)
19.99€
/ tk
Client Price
18.99€
/ tk
Product Description
Specifications
Availability in stores
Enquiry Form
Product Description
64 GB, USB-C/USB 3.0, 34 x 19 x 7 mm
- Quickly and easily transfer files between your USB-C equipped mobile device or laptop and other PC's
- Access files stored on drive directly from smartphone or tablet – no need to transfer to device
- Save files directly to USB – no Wi-Fi connection required
- USB 3.0 connectivity* (Also compatible with USB 2.0 devices)
- Convenient lanyard keeps cap tethered to the drive
- Available in 16GB, 32GB and 64GB capacities
Transfer files quickly and easily between your USB-C equipped mobile device or laptop and other PC's using Verbatim's Store 'n' Go Dual USB Flash Drive for USB-C devices – no wireless connection or data plan usage required.
Instantly add storage to your USB Type-C phone or tablet, so you have room to capture more photos, shoot more video or free up space for apps. Backing up files to your PC is easy, simply insert the flash drive into the applicable port (USB-A or USB-C) on your PC and transfer the files.
A simple settings change on your mobile device also allows you to record video and save photos or music directly to the USB drive – no transfer required.
* USB-A connection to PC/laptop. Requires USB 3.0 host device for optimum performance. USB-C transfer speed is dependent on device.
- Quickly and easily transfer files between your USB-C equipped mobile device or laptop and other PC's
- Access files stored on drive directly from smartphone or tablet – no need to transfer to device
- Save files directly to USB – no Wi-Fi connection required
- USB 3.0 connectivity* (Also compatible with USB 2.0 devices)
- Convenient lanyard keeps cap tethered to the drive
- Available in 16GB, 32GB and 64GB capacities
Weight & dimensions
Width
19 mm
Depth
34 mm
Height
7 mm
Weight
3.6 g
Design
Product colour
Black,Blue,Silver
Form factor
Capless
Performance
Windows operating systems supported
Windows 10,Windows 10 Education,Windows 10 Education x64,Windows 10 Enterprise,Windows 10 Enterprise x64,Windows 10 Home,Windows 10 Home x64,Windows 10 IOT Core,Windows 10 Pro,Windows 10 Pro x64,Windows 7 Enterprise,Windows 7 Enterprise x64,Windows 7 Home Basic,Windows 7 Home Basic x64,Windows 7 Home Premium,Windows 7 Home Premium x64,Windows 7 Professional,Windows 7 Professional x64,Windows 7 Starter,Windows 7 Starter x64,Windows 7 Ultimate,Windows 7 Ultimate x64,Windows 8,Windows 8 Enterprise,Windows 8 Enterprise x64,Windows 8 Pro,Windows 8 Pro x64,Windows 8 x64
Linux operating systems supported
Y
Mac operating systems supported
Mac OS X 10.10 Yosemite,Mac OS X 10.11 El Capitan,Mac OS X 10.12 Sierra,Mac OS X 10.4 Tiger,Mac OS X 10.5 Leopard,Mac OS X 10.6 Snow Leopard,Mac OS X 10.7 Lion,Mac OS X 10.8 Mountain Lion,Mac OS X 10.9 Mavericks
Capacity
64 GB
Mobile operating systems supported
Android 4.0,Android 4.1,Android 4.2,Android 4.3,Android 4.4,Android 5.0,Android 5.1
USB version
3.0 (3.1 Gen 1)
Mac compatibility
Y
Device interface
USB Type-A / USB Type-C
Packaging content
Quantity per pack
1 pc(s)
Security
Fingerprint reader
N
Password protection
N
PIN-secured access
N
Specifications
Product Details
Specifications

| | |
| --- | --- |
| Manufacturer | VERBATIM |
| Manufacturer Code | 49967 |
| Unit | tk |
| Barcodes | 0023942499671 |
| Qty in the package | 10 |
Availability in stores
NB! The stock of the stores seen below is not in real time and does not take bookings into account. Check the availability in stores.
Enquiry Form
Enquiry form
Send us a question to get an offer for the goods, if we do not have enough in the e-shop immediately.
Enquiry info
Kontorikauba pakkumised
Pastapliiats Penac RBR 0,7mm, must , kl...

1.00€

/ tk

Client Price

0.95€

/ tk

Etikett APLI 70x67,7 Ref.1290,

19.90€

/ pk

Client Price

18.91€

/ pk

Needid Apli 17mm. 100tk/pk.

1.49€

/ pk

Client Price

1.42€

/ pk

Karp Organiser kokkupandav, Leitz C&S S...

11.10€

/ tk

Client Price

10.55€

/ tk