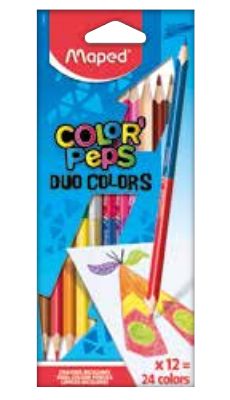 Värvipliiats Color Peps Duo 12tk.=24värvi, Maped
Color'Peps Duo Colors, x12
Qty in the package (12 pk)
Qty in the box (180 pk)
3.70€
/ pk
Client Price
3.52€
/ pk
Product Description
Specifications
Availability in stores
Enquiry Form
Product Description
Color'Peps Duo Colors, x12
Smart 2 in 1 use: twice the amount of colours, take less space in pencil case!
Unique: includes a gold/silver pencil
Soft and resistant lead
Ergonomic: triangular pencil for better grip
Standard lead diameter: Ø 2.9 mm
Features
Break-resistant lead
Y
Lead diameter
2.9 mm
Recommended age group
Child
Recommended gender
Boy/Girl
Double-sided
Y
Easy to handle
Y
Quantity per pack
12 pc(s)
Packaging data
Package type
Hanging box
Tehnilised andmed tulevad kolmandalt osapoolelt Icecat. Me ei võta vastutust nende andmete õigsuse eest.
Specifications
Product Details
Specifications

| | |
| --- | --- |
| Manufacturer | MAPED |
| Manufacturer Code | 829600 |
| Unit | pk |
| Barcodes | 3154148296003 |
| Qty in the package | 12 |
| Qty in the box | 180 |
Availability in stores
NB! The stock of the stores seen below is not in real time and does not take bookings into account. Check the availability in stores.
Enquiry Form
Enquiry form
Send us a question to get an offer for the goods, if we do not have enough in the e-shop immediately.
Enquiry info