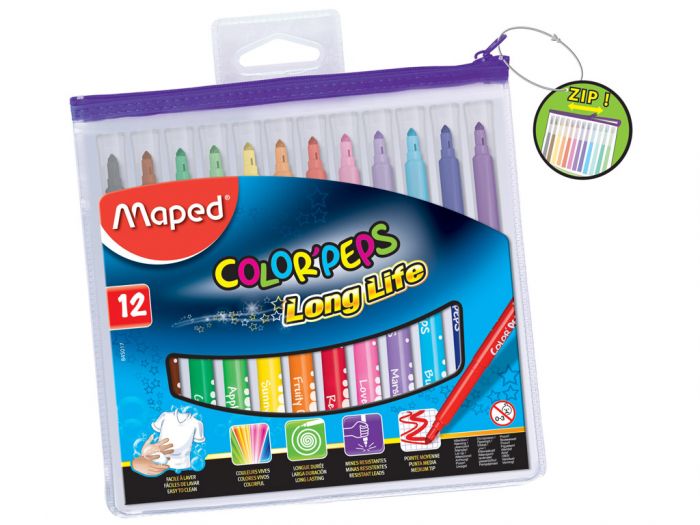 Viltpliiatsid Color Peps 12värvi, lukuga plastik pakend, Maped
Qty in the package (12 kmpl)
Qty in the box (96 kmpl)
4.80€
/ kmpl
Client Price
4.56€
/ kmpl
Product Description
Specifications
Availability in stores
Enquiry Form
Product Description
Viltpliiatsid Color´Peps.
Erksate värvidega ja kauakestvad (värvib üle 300 m!) viltpliiatsid.
Seebi ja veega ülihästi väljapestavad enamikel tekstiilidel ja nahal.
Fikseeritud ja koonilise otsaga (d=3.6mm).
Parima tulemuse saavutamiseks pesta koheselt pesumasinas.
Pesta ka teiskordselt kui plekid ei tule esimesel korral välja.
Ventileeritud kork.
Sisaldab pisidetaile, mis võivad sattuda hingamisteedesse.
Toodetud Prantsusmaa firma Maped tehastes Hiinas.
Kogus: 12 tk
Lukuga plastik pakendis.
Specifications
Product Details
Specifications

| | |
| --- | --- |
| Manufacturer | MAPED |
| Manufacturer Code | 845017 |
| Unit | kmpl |
| Barcodes | 3154148450177 |
| Qty in the package | 12 |
| Qty in the box | 96 |
Availability in stores
NB! The stock of the stores seen below is not in real time and does not take bookings into account. Check the availability in stores.
Enquiry Form
Enquiry form
Send us a question to get an offer for the goods, if we do not have enough in the e-shop immediately.
Enquiry info
Kontorikauba pakkumised
Liim PVA 40g APLI

0.60€

/ tk

Client Price

0.57€

/ tk

Pastapliiats Penac RBR 0,7mm, must , kl...

1.00€

/ tk

Client Price

0.95€

/ tk

Needid Apli 17mm. 100tk/pk.

1.49€

/ pk

Client Price

1.42€

/ pk

Kaustik A5 jooneline 60lehte spiraalköi...

Koopiapaber A4 80g Navigator Universal ...

6.30€

/ pk

Client Price

5.99€

/ pk