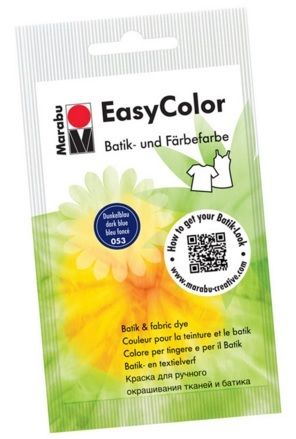 Batikavärv EasyColor 25g 055 dark ultramarine
Manufacturer Code
02MB73522055
Qty in the package (10 tk)
Qty in the box (250 tk)
3.20€
/ tk
Client Price
3.04€
/ tk
Product Description
Specifications
Availability in stores
Enquiry Form
Product Description
Marabu Easy Color on ideaalne batika ja riidevärv kooli-, käsitöö-, harrastus- ja kutsetegevuses kasutamiseks. Värvida saab kõiki puuvillaseid, linaseid, siid-, viskoos- ja segamaterjalist kangaid (maksimaalselt 20% tehiskiudu) aga ka riisipaberit. Väga hea pleekimiskindlus. Paki sisu on piisav 150g kanga tugevaks värvimiseks. Keskmine kuni hele värv saavutatakse 300g kangaga. Kasutatud värvivedelikku võib säilitada mitu päeva, kuid see tuleb enne uuesti värvimist üles soojendada. Marabu Easy Coloriga värvitud kangad ei talu pesu keetmist ning muutuvad sagedase pesemisega heledamaks. Pesukindluse tõstmiseks tuleb kasutada fiksaatorit.
Specifications
Product Details
Specifications

| | |
| --- | --- |
| Manufacturer | MARABU |
| Manufacturer Code | 02MB73522055 |
| Unit | tk |
| Barcodes | 4007751062352 |
| Qty in the package | 10 |
| Qty in the box | 250 |
Availability in stores
NB! The stock of the stores seen below is not in real time and does not take bookings into account. Check the availability in stores.