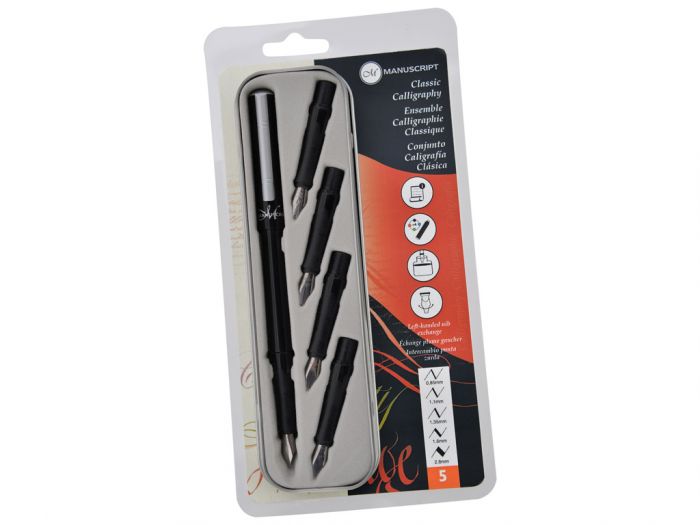 Kalligraafiakomplekt Classic Calligraphy 5 osaline (sulepea + 4 sulge)
Manufacturer Code
01MC11850000
20.20€
/ kmpl
Client Price
19.19€
/ kmpl
Product Description
Specifications
Availability in stores
Enquiry Form
Product Description
Kalligraafiasulepea komplekt Classic Calligraphy.
Manuscript kalligraafiakomplekt Classic sisaldab klassikalist sulge, tindipadruneid ja karpi ning on täiuslik kinkekomplekt alustavale kalligraafile oma kunsti õppimiseks ja harjutamiseks. Komplektis on 5 kvaliteetset suleotsa erinevate kirjasuuruste, stiilide ja värvide katsetamiseks.
Peenike otsik (0.85mm)
Keskmine otsik (1.1mm)
Lai otsik (1.35mm)
2B otsik (1.6mm)
4B otsik (2.8mm)
Klassikaline sulepea
Mustad täitesulepea tindipadrunid (mõõt: International)
Täidetav tindipadrun
Juhend
Karp
Specifications
Product Details
Specifications

| | |
| --- | --- |
| Manufacturer | MANUSCRIPT |
| Manufacturer Code | 01MC11850000 |
| Unit | kmpl |
| Barcodes | 5020180011851 |
Availability in stores
NB! The stock of the stores seen below is not in real time and does not take bookings into account. Check the availability in stores.
Enquiry Form
Enquiry form
Send us a question to get an offer for the goods, if we do not have enough in the e-shop immediately.
Enquiry info
Kontorikauba pakkumised
Pastapliiats Penac RBR 0,7mm, must , kl...

1.00€

/ tk

Client Price

0.95€

/ tk

Etikett APLI 70x67,7 Ref.1290,

19.90€

/ pk

Client Price

18.91€

/ pk

Needid Apli 17mm. 100tk/pk.

1.49€

/ pk

Client Price

1.42€

/ pk

Karp Organiser kokkupandav, Leitz C&S S...

11.10€

/ tk

Client Price

10.55€

/ tk

Koopiapaber A4 80g Navigator Universal ...

6.30€

/ pk

Client Price

5.99€

/ pk

Liim PVA 40g APLI

0.60€

/ tk

Client Price

0.57€

/ tk