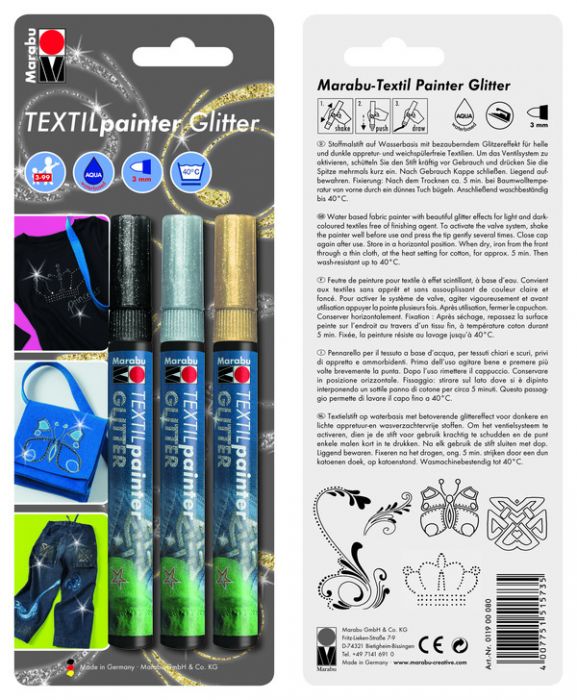 Marker tekstiilile glitter 3mm 3tk. pakis
Manufacturer Code
02MB11900080
Textil Painter Glitter Sort, 3 x 3 mm
9.90€
/ kmpl
Client Price
9.41€
/ kmpl
Product Description
Specifications
Availability in stores
Enquiry Form
Product Description
Textil Painter Glitter Sort, 3 x 3 mm
Everything is better when it glitters! The set of 3 Textil Painter Glitter liners from Marabu create sparkling glamour designs. The colours: Glitter Gold, Glitter Silver and Glitter Black produce the most impressive designs, even on Jeans fabrics and dark T-shirts. Be enchanted by lovely glittering fabric markers and leave a sparkling impression. The high-quality fabric painters from Marabu are absolutely washable, so there is no reason not to have your own textile designs. Some ideas and templates to get you started on your fantastic textile masterpieces can be found on the packaging. Glitter, set, go!
- Textil Painter Glitter by Marabu: The "fashion designers" among markers, for light and dark textiles (e.g. jeans)
- fabric markers with a 3 mm paint tip
- water-based paint, ideal for children from 6 years
- washable up to 40°C after iron fixing or oven fixing
- great for combining with Marabu Textil and Marabu Textil plus
Packaging content
Package type
Blister
Quantity per pack
1 pc(s)
Features
Product colour
Multicolor
Writing colours
Black,Gold,Silver
Recommended age (max)
99 yr(s)
Recommended age (min)
6 yr(s)
Washable
Y
Number of colours
3 colours
Housing shape
Round
Tip width
3 mm
Tehnilised andmed tulevad kolmandalt osapoolelt Icecat. Me ei võta vastutust nende andmete õigsuse eest.
Specifications
Product Details
Specifications

| | |
| --- | --- |
| Manufacturer | MARABU |
| Manufacturer Code | 02MB11900080 |
| Unit | kmpl |
| Barcodes | 4007751515735 |
Availability in stores
NB! The stock of the stores seen below is not in real time and does not take bookings into account. Check the availability in stores.
Enquiry Form
Enquiry form
Send us a question to get an offer for the goods, if we do not have enough in the e-shop immediately.
Enquiry info